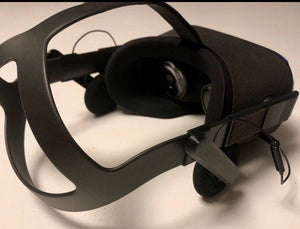 Headphone Holder Designed To Fit The Oculus QUEST, Koss Porta Pro, and Koss KSC75 Headphones
This is a solution to mounting Koss Porta Pro speakers OR mounting Koss KSC75 Headphones to an Oculus Quest VR headset. Choose to include the Koss Porta Pro speakers with our adapter or without the Koss speakers.
NOTE: If you purchase with the Koss speakers we install the original Koss speakers as is with our mounting bracket (link of the Koss speakers are below). Special note **: Since they require some force to install and you feel you are unable to install the speakers into our bracket then you should purchase the brackets with the speakers. If there is a problem with this listing please contact us directly The headset can rotate freely and height can be adjusted. It is easy to assemble. Both the Koss Porta Pro and Koss KSC75 Headphones speakers, the Oculus Quest mount, and the cable are pop-on.
Attaching the speakers does requires a bit of force. The beams have built in cable ducts that support 1.6Ø mm cable Just pop the Koss speakers off of their original frames and press them into the 3D printed arm parts, making sure to keep the left and right correct. Comes with ONE RIGHT and ONE LEFT HOLDER. The Koss speakers can be bought from amazon: Koss Porta Pro Black On Ear Headphones with Case Black https://www.amazon.com/dp/B0755N6CSR/ref=cm_sw_r_cp_api_i_SLT1DbY36WZ53 The bracket parts slide onto the outside of the headset bands a shown in the picture. Push them toward the front of the headset to secure them in place. We've provided various levels of tension for how much they grip the arms when inserted. Made of plastic (non-toxic) -
**Earth Friendly***-biodegradable and bioactive thermoplastic aliphatic polyester derived from renewable resources, such as corn starch (in the United States and Canada), cassava roots, chips or starch (mostly in Asia), or sugarcane (in the rest of the world)
MATERIALS: PLA is a 3D printing plastic made from corn-starch or sugar cane. It is 100% biodegradable and non-toxic. All items in our shop are 3D printed products made with PLA, an eco-friendly plastic. MANUFACTURING: 3D printing is accomplished by slowly printing layer by layer. Due to this additive process, there may be minor imperfections. 3D prints display a smooth, fine-line layered texture with a silky glossiness and must pass a 5-point inspection. Pictures in the listing are always representative of final quality. SHIPPING NOTE: Please make sure the address is correct. If there are mistakes in delivery due to an incorrect address, we will have to reship for the full shipping cost on the purchasers expense. If you are unsatisfied with your order, please contact us so we can turn your experience into a positive one. For source file please Oculus Quest On-Ear Headphones by brianfroelund is licensed under the Creative Commons - Attribution license. https://www.thingiverse.com/thing:3666505 ---- Legal notice --- **This is not an officially licensed product and is only considered Fan Art, the item is 3D printed and assembled by myself.**