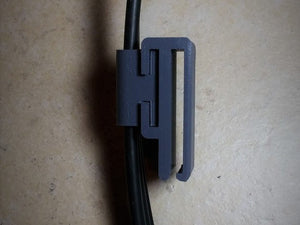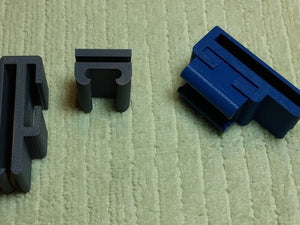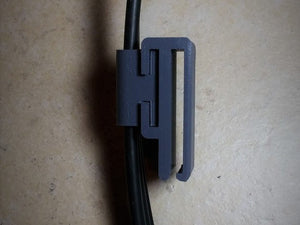 Cable Support - Waist/Belt Clip for HTC Vive, Valve Index
A simple clip that allows you attach your HTC Vive or Valve Index headset cable to your waist band or belt. This makes the headset much more comfortable, since the bulk of the cable weight and movement drag is transferred from your head to your waist.
Designed by: https://www.thingiverse.com/thing:1574006 Made of plastic (non-toxic)
- **Earth Friendly***-biodegradable and bioactive thermoplastic aliphatic polyester derived from renewable resources, such as corn starch (in the United States and Canada), cassava roots, chips or starch (mostly in Asia), or sugarcane (in the rest of the world)
MATERIALS: PLA is a 3D printing plastic made from corn-starch or sugar cane. It is 100% biodegradable and non-toxic. All items in our shop are 3D printed products made with PLA, an eco-friendly plastic.
MANUFACTURING: 3D printing is accomplished by slowly printing layer by layer. Due to this additive process, there may be minor imperfections. 3D prints display a smooth, fine-line layered texture with a silky glossiness and must pass a 5-point inspection. Pictures in the listing are always representative of final quality. SHIPPING NOTE: Please make sure the address is correct. If there are mistakes in delivery due to an incorrect address, we will have to reship for the full shipping cost on the purchasers expense. If you are unsatisfied with your order, please contact us so we can turn your experience into a positive one.